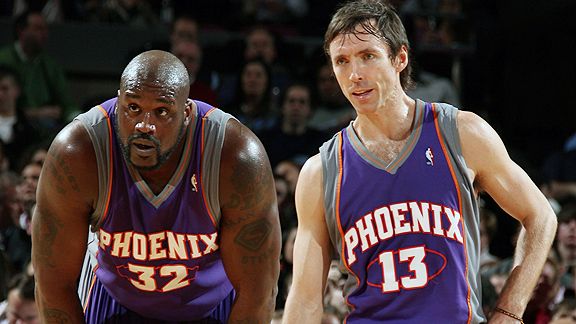 We cannot confirm this is a true story, but we can confirm that
Yahoo Sports
and
Sports Illustrated
among plenty of other news sites are reporting that Shaq's new TV show that debuted this week was an idea stolen from former teammate Steve Nash. To make the headache that could have resulted when Nash hired a lawyer go away, Nash was given an Executive Producer credit on the show and compensation.
Now why wouldn't ESPN want to report on something that puts Shaq in a bad light? At least they're consistent! Big Ben and Shaq can go jerk each other off as they celebrate being the darlings of ESPN.

[UPDATE:] Since this article was posted they did report on this article. I personally saw them discuss it on both Around the Horn and PTI. I am happy they addressed the issue, but that still doesn't excuse the fact this was going around all major sports news websites without being on ESPN for hours. Get on top of your shit guys.